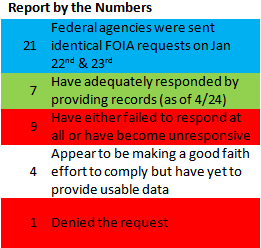 It took the Department of Homeland Security Headquarters Division just nine business days to provide data in response to a simple Freedom of Information Act request sent to it and 20 other federal agencies.
The Department of Justice's Civil Rights Division came through a day later; two days after that, we received data from Justice's Management Division. Soon, the records from the Fish & Wildlife Service arrived, then the Army, and then the Bureau of Land Management. Earlier this week, data arrived from United States Citizenship and Immigration Services.
Now 65 business days after the FOIA requests were sent to the 21 agencies, only those seven have furnished complete and usable records in response. Several others have made good-faith efforts to comply and appear to be working toward providing data.
Ten agencies have either failed to respond at all, have become unresponsive at some point in the process, or, in the case of the CIA, have outright denied the request.
Among those who have failed to comply: The Justice Department's Office of Information Policy, the federal entity that, according to its own website, is "responsible for encouraging agency compliance with the Freedom of Information Act (FOIA)."