FOIA Agency Information
General Information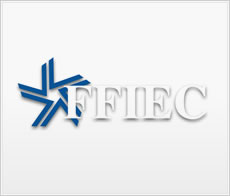 Federal Financial Institutions Examination Council
Mission statement: "The Council is a formal interagency body empowered to prescribe uniform principles, standards, and report forms for the federal examination of financial institutions by the Board of Governors of the Federal Reserve System (FRB), the Federal Deposit Insurance Corporation (FDIC), the National Credit Union Administration (NCUA), the Office of the Comptroller of the Currency (OCC), and the Office of Thrift Supervision (OTS) and to make recommendations to promote uniformity in the supervision of financial institutions. "
Where Suits are Filed
No information available.
Feedback
Would you like us to consider your request to FFIEC or lawsuit against FFIEC as a FOIA Project Case Spotlight?
If so, use the comments box below to send us your contact information. We'll be in touch to ask you for the documents related to your request. You can also upload those documents yourself using our user-submitted document tool.