FOIA Agency Information
General Information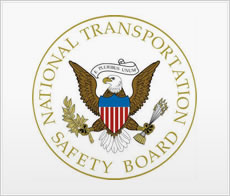 National Transportation Safety Board
Mission statement: "The National Transportation Safety Board (NTSB) is an independent federal agency charged with determining the probable cause of transportation accidents and promoting transportation safety, and assisting victims of transportation accidents and their families. The NTSB investigates accidents, conducts safety studies, evaluates the effectiveness of other government agencies programs for preventing transportation accidents, and reviews the appeals of enforcement actions involving aviation and mariner certificates issued by the Federal Aviation Administration (FAA) and the U.S. Coast Guard (USCG), as well as the appeals of civil penalty actions taken by the FAA. "
Where Suits are Filed
Status Year City

Cases filed within:

7 days

30 days

over 30 days

Click on city for case list.

| Docket Number | Filed | Case Title |
| --- | --- | --- |
Statistics on Lawsuits*
Key Indicators

| | |
| --- | --- |
| 1 | Suit filed against NTSB in FY 2020 |
| 25 | Suits filed since 2001 |
| 2 | Suits still pending |
| 26 | Suits closed |
| 7 | Suits taking over 24 months |
| 1 | Suit taking over 60 months |

Lawsuits Filed by Year
*based on FOIA nature of suit
Feedback
Would you like us to consider your request to NTSB or lawsuit against NTSB as a FOIA Project Case Spotlight?
If so, use the comments box below to send us your contact information. We'll be in touch to ask you for the documents related to your request. You can also upload those documents yourself using our user-submitted document tool.