New Tool Reveals Agencies Struggling to Keep Up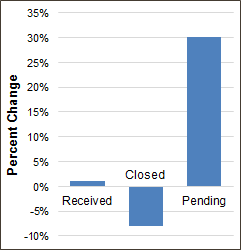 Figure 1. Changes in FOIA Requests Received, Closed and Pending During FY 2015
So far during FY 2015, federal agencies are falling further behind in their efforts to keep up with requests for information from the public, an initial examination of new data compiled by the FOIA Project suggests. Pending FOIA requests have risen in eight out of nine agencies examined. Overall pending cases are up 30 percent since the end of FY 2014, while average monthly closures during FY 2015 have fallen 8 percent from their average during FY 2014. See Figure 1 and Table 1.
Table 1. Changes in FOIA Receipts, Closures and Pending Workload*
FOIA Office
FOIA
Requests
Received
Change
FY2014 to FY2015
Received
Closures
Pending
Total
441,966
1%
-8%
30%
DHS
Headquarters
2,024
-2%
-8%
45%
US Citizenship and Immigration Services
313,601
2%
-10%
38%
DOD
Army
90,727
-8%
-8%
18%
DOI
Bureau of Land Management
2,337
10%
0%
42%
Fish and Wildlife Service
3,494
2%
11%
-3%
DOJ
Civil Rights
1,377
104%
37%
107%
Drug Enforcement Administration
1,787
11%
4%
23%
National Security Division
647
10%
-14%
23%
Environmental Protection Agency
25,972
6%
9%
5%
* Covers FOIA requests from Oct 2012 through June 2015 except for USCIS (data only through December 2015) and DEA as well as EPA (data only through March 2015). Percent change statistics based on average monthly receipts and closures during FY 2014 versus FY 2015, and number pending at the end of FY 2014 versus latest month available for FY 2015.
During FY 2015 these same agencies took an average of 38 calendar days to respond. The Army was quickest, averaging monthly between 25 and 29 days to process a FOIA request. At the other extreme, average response times had risen to 113 days for the Bureau of Land Management and topped 100 days for the Drug Enforcement Administration.
Two components of the Justice Department took the prize for the length of time FOIA requests had been waiting unanswered as of the end of June 2015. Requesters to the National Security Division still waiting for an answer had already chocked up an average of 513 days and still had not received any response; requesters to the Civil Rights Division had already been waiting for an average of 345 days.
These findings are based upon data compiled for a new interactive data tool the FOIA Project released today. The tool lets you graph month-by-month FOIA processing trends by agency, and within agencies by the "track" assigned — simple, complex, expedited, etc. The monthly number of closed and pending requests by agency and track are displayed, along with average processing and wait times.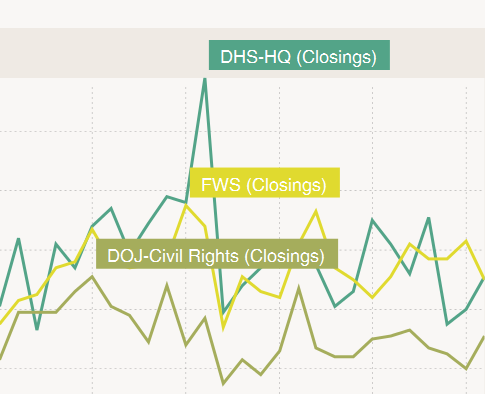 The data compiled by the FOIA Project in the tool were obtained and analyzed by the Transactional Records Access Clearinghouse (TRAC), a nonpartisan, nonprofit research center at Syracuse University. TRAC, which administers the FOIA Project, has been requesting current information each quarter from 21 federal agencies on their backlog and processing times.
Thus far, usable data have been received from nine agencies covering 441,966 individual FOIA administrative requests. These nine agencies are: the Environmental Protection Agency, the Army, the Bureau of Land Management, the Fish and Wildlife Service, the Drug Enforcement Administration, the National Security and Civil Rights divisions of the Justice Department, the Headquarters office of Homeland Security, and the U.S. Customs and Immigration Service. Additional agencies and periods will be added as more comply with the FOIA requests they have been sent for this data.
The data tool released today is designed to let you explore the data on your own. In addition to comparing agencies based on their month-to-month number of closures and pending cases, you can also examine how long it has taken them to close those cases on average. And you can compare pending and closure times based on the track the agency assigned the FOIA request to, and more.
We have been separately scoring those agencies that have yet to respond with usable data to any of our requests. See TRAC's earlier reports on the refusal of the CIA to provide data and how agencies scored after the first round of requests.
For further information, read about how to use the tool, and how the data were obtained and compiled. Want to see data added to the tool from another agency? Contact us to volunteer to "adopt an agency" by using the form below: