Good News and Bad News on FOIA Responsiveness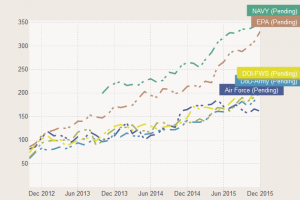 Increasing wait times seen for five of the six
agencies that replied to our latest FOIA survey
(click image for the interactive tool)
Six agencies out of the 22 surveyed have already provided very timely responses to TRAC's latest quarterly survey requesting records on FOIA processing data through December 2015. These agencies were: the U.S. Air Force (Headquarters), the U.S. Army, the U.S. Navy, the Bureau of Land Management (BLM), the Fish and Wildlife Service (FWS) and the Environmental Protection Agency (EPA). Each responded in a matter of a few days.
That's the good news.
These responses are from the fifth round of the ongoing survey by the Transactional Records Access Clearinghouse (TRAC), evaluating how well or poorly 22 federal agencies respond to very simple Freedom of Information Act requests. The requested information provides fuel for the FOIA Project's backlog and processing time interactive tool which allows the comparison of FOIA processing and wait times on a month-by-month, agency-by-agency, and processing track-by-track basis. TRAC's latest round of quarterly requests, begun just over a year ago, requests data updated through the end of December 2015.
Now the bad news. As of the end of December 2015, five out of these six agencies appear to be having trouble keeping up with their FOIA workload, reporting an increase in average pending wait times. Only the Air Force Headquarters managed to keep wait times from increasing. For that FOIA office, pending requests have been waiting unanswered for an average of 161 days, down 2 percent from 165 days a year ago at the end of December 2014.
In contrast, average wait times on pending workload at three agencies ballooned by 50 percent or more for this same one-year period: BLM, followed closely by the EPA and the FWS.
Other highlights from this round: the Department of the Navy exhibited the longest average number of days that FOIA requests had been waiting unanswered in their pending workload last month: 354 days, an increase of 24 percent from the year before. At 161 days, the Air Force Headquarters' average wait was the lowest for these six agencies. The Army's average wait time increased 44 percent from December 2014.
Two agencies made progress in bringing down the number of pending FOIA requests. As of the end of December 2015, the EPA and the FWS were showing 16 and 17 percent drops, respectively, in the number of FOIA requesters waiting for a response.
Full details are available via the FOIA Project's interactive tool which now includes month-by-month measures of processing and wait times for fifteen agencies.
To keep things in perspective, it is important to acknowledge that these are the agencies that were most responsive to our latest FOIA letters which asked for request-by-request details on how each agency handled its FOIA workload. This is an important indicator of their efforts to be responsive to FOIA requesters.
Still unknown is what the record may be for agencies that haven't yet responded to TRAC's simple request. As of our report of November 2015, one third of the agencies surveyed had not provided usable data in reply to any of our survey requests, the first round of which has now been pending for over a year. In one section of its recently issued report FOIA Is Broken, the U.S. House Committee on Oversight and Government Reform concurs that agency non-responsiveness is a problem, noting: "The Biggest Barrier of All: Delay, Delay, Delay."
For a few of these non-responsive agencies, TRAC has since received replies but not any actual usable data. For example, despite the passage of the E-FOIA Act of 1996 that required agencies to provide data in electronic formats, the FBI sent us an image of a printout of a computer-generated listing. In essence, we received a picture of a 540-page listing instead of the actual machine-readable computer output. Without sitting and typing the information back into a computer (the FBI receives over 10,000 requests annually), it is not feasible to determine whether the listing is complete, let alone compute average response and wait times from the information provided. And of course, more than a year later, some agencies haven't even responded to our requests at all.
But the CIA still holds the record as the least cooperative agency for flatly refusing to even process our simple FOIA request, claiming it was too burdensome. Our lawsuit filed October 20 against the CIA is currently pending in federal court.