Annual Report: FOIA Lawsuits Reach Record Highs in FY 2018
Freedom of Information Act (FOIA) lawsuits continued to break record highs in FY 2018. According to case-by-case court records, 860 FOIA lawsuits were filed in FY 2018 against government agencies. In addition, the backlog of FOIA suits waiting to be decided rose to 1,204 cases, an all-time high.
Figure 1. FOIA Litigation Reaches Record Highs in FY 2018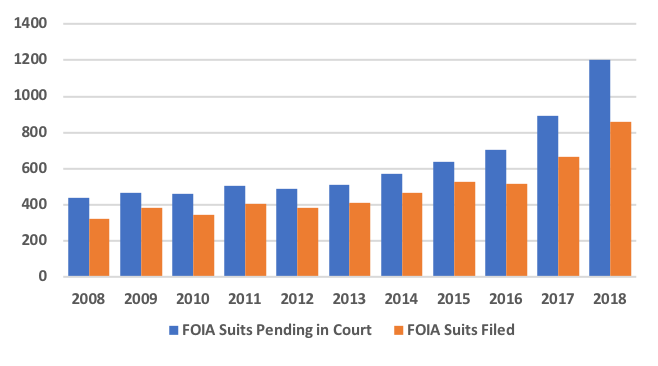 Compared to an average of 402 FOIA suits per year during the Obama Administration, the rate of filing since President Trump assumed office has more than doubled. While suits rose during the latter years of the Obama Administration, the 860 suits filed in FY 2018, represent a 67 percent increase over filings during the last full fiscal year of the Obama Administration.
Although not the only factor, a notable pattern emerging during FY 2017 and 2018 is the rising number of nonprofit filers. In FY 2018, nonprofits comprised 56 percent of all FOIA lawsuits brought against the government. Nonprofits became increasingly active under the Obama Administration, but emerged as the majority of all FOIA lawsuit plaintiffs after President Trump took office. In FY 2016, nonprofit filers comprised just 36 percent of plaintiffs, whereas they comprised 50 percent or more in FY 2017 and FY 2018 (see previous report, "FOIA Suits Filed by Nonprofit/Advocacy Groups Have Doubled Under Trump"). Suits filed by reporters and news organizations also have been increasing.
FY 2018 FOIA Lawsuits App
Accompanying this report, FOIAproject.org has just updated the period covered by the project's FOIA Lawsuits App. This free user tool allows the public to drill into these numbers to track FOIA litigation trends over time.
Available are trends not only on new suits filed, but also on how long suits have taken to complete. The backlog of FOIA cases currently pending before federal district courts is also detailed, along with how long cases have been waiting resolution.
Users can examine overall figures, or drill in by government department, by agencies within departments, and by independent agencies.
Who was sued in FY 2018?
In FY 2018, the Departments of Justice and Homeland Security remained in the top spots, although the number of suits against each, especially Homeland Security have increased significantly. Across the board, FY 2018 was a record-setting year for number of suits filed against top agencies. Both the Justice Department and Department of Homeland Security were sued more frequently under FOIA than any previous year. In FY 2016, the Department of Homeland Security was sued 67 times. That number has jumped to 150 suits in FY 2018. Similarly, the Department of Justice was sued 165 times in FY 2016, and 228 times in FY 2018.
Since FY 2016, Veterans Affairs has fallen out of the top ten, and been replaced by the Department of Education. The two newcomers to the top ten list in FY 2018 are the Department of Education and Environmental Protection Agency, which have replaced Veterans Affairs and the Central Intelligence Agency, which fell to 12th and 15th places respectively. The Department of Commerce tied with the Department of Education for 10th place, with 28 suits filed against it.
Figure 2. Agencies Most Frequently Sued Under FOIA During FY 2018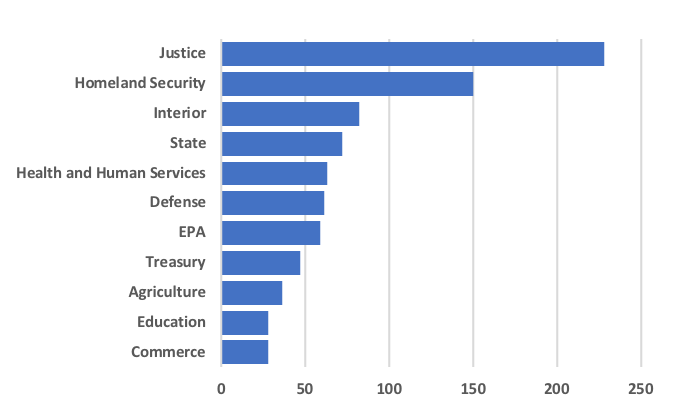 The most remarkable increase in FOIA suits since FY 2016 has been against the Department of the Interior, Environmental Protection Agency (EPA), Department of Homeland Security (DHS) and Department of Health and Human Services (HHS).
Figure 3. Federal Agencies Experiencing Highest Rate of Increase in FOIA Suits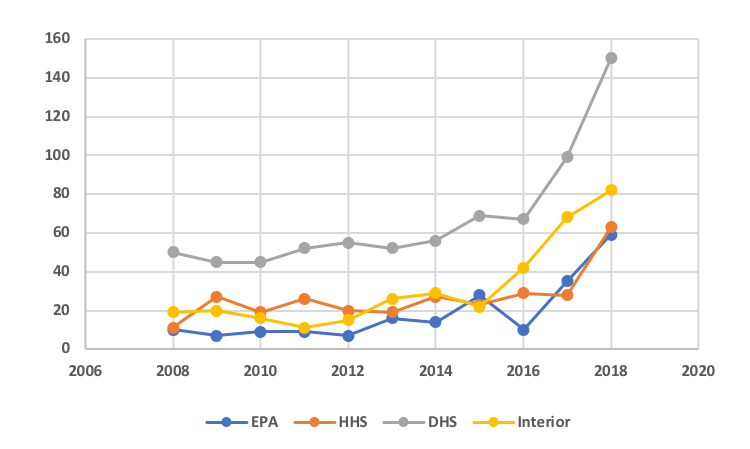 Lawsuits Focused on Official Conduct, Misuse of Public Funds
A review of FOIA lawsuits filed during FY 2018 showed a repeating pattern: heightened scrutiny of high-profile government officials. Public interest groups, primarily nonprofits and news organizations, led the way in filing a slew of FOIA lawsuits seeking records pertaining to spending by government officials in several federal agencies, including the Environmental Protection Agency, the Department of Health and Human Services, and the Department of Housing and Urban Development, among others. Public interest groups represented the full political spectrum, and filed lawsuits to seek documents that probed into practices by government officials from both the left and right.
FY 2018 also witnessed a greater number of cases filed by public interest groups formed in response to the Trump presidency – in particular, The Protect Democracy Project, American Oversight, the Democracy Forward Foundation and activist Ryan Shapiro's organization, Property of the People. American Oversight, a progressive organization, has been a particularly prolific filer on immigration and border enforcement issues. The organization has filed the second highest number of FOIA lawsuits against federal agencies since President Trump took office and states in its mission that it uses FOIA to "expose unethical conduct throughout this administration."
With 860 lawsuits filed last year, the following are emblematic examples of FOIA cases brought against the government. Full information describing each lawsuit that was filed is available through the FOIAproject.org's weekly blog posts covering each newly filed FOIA case.
Unethical conduct by government officials. In 2016, Hillary Clinton's private email server was all the rage amongst FOIA filers. In FY 2018, Judicial Watch continued to file lawsuits, but at a less furious pace, seeking records of communications between various government officials related to the FBI investigation into Clinton's email server. One such lawsuit, filed October 13, 2017 against the Department of Justice, sought records of communications between then-Attorney General Loretta Lynch and former FBI director, James Comey.
As the headlines on Clinton's emails dwindled in FY 2018, attention shifted to the conduct of Trump Administration officials, namely Scott Pruitt of the Environmental Protection Agency, Ben Carson of Housing and Urban Development, and Ryan Zinke of Interior. Environmental groups, as well as groups dedicated to government oversight, filed lawsuit after lawsuit seeking information on Scott Pruitt's travel expenses, spending on office renovations, and other expenses. For example, First Look Media Works, Inc. filed a lawsuit after six ignored FOIA requests to the EPA for records concerning travel expenses of Scott Pruitt and other EPA officials. American Oversight filed suit against the EPA seeking information on waivers or approvals of first-class air travel by administrator Scott Pruitt and two other EPA officials. Many suits against the EPA regarding Scott Pruitt were filed in April 2018, as journalists began to report on allegations of misconduct. The initial reporting snowballed into an avalanche of investigations by government watchdogs and Congress.
The White House has also been a target of lawsuits. Ryan Shapiro and Property of the People filed a lawsuit against the General Services Administration, Department of Commerce, Department of State, and Department of Defense for records reflecting charges made on government credit cards for expenses at Trump-owned properties. Similarly, the editor of an online publication, Benjamin Wittes of Lawfare, sued to access records concerning payment made by the agency to the Trump International Hotel to reimburse accommodations for foreign diplomats.
Finally, American Oversight filed suit against the Department of Housing and Urban Development seeking records pertaining to communications with Secretary Ben Carson's family, outside interest groups, the White House and the Trump family. American Oversight also filed suit concerning alleged conflicts of interest by the Centers for Medicare and Medicaid Services (housed in Health and Human Services) director, Seema Verma.
The Russia Investigation. Organizations including the Electronic Privacy Information Center, Judicial Watch, and America Oversight filed lawsuits seeking information on the communications between FBI agent Peter Strzok and FBI attorney Lisa Page, as well as other types of communications pertaining to Robert Mueller's investigation into Russian interference in the 2016 election. For example, Freedom Watch filed a lawsuit against the Department of Justice for records concerning contacts between the Office of Special Counsel Robert Mueller, the FBI, the Department of Justice and foreign or domestic media pertaining to the Russia investigation. Judicial Watch also filed a lawsuit against the Department of Justice seeking information on the funding of Robert Mueller's investigation.
Immigration. The border wall. Sanctuary cities. Suspension of DACA. The family separation policy. The travel ban and "extreme vetting." FY 2018 was a heated and controversial year for immigration.
Headlines about immigration dominated the news cycle as the Trump Administration announced controversial policies on a regular basis. All of this resulted in a busy year for federal agencies involved in enforcing immigration policy and their attorneys. American Oversight sued the Department of Homeland Security (DHS) for records of communications pertaining to the construction of a wall on the border between the U.S. and Mexico. Human Rights Watch filed a suit against DHS for records from the Asylum Division of the U.S. Citizenship and Immigration Services (USCIS) on due process violations or other alleged misconduct by Customs and Border Patrol agents. Make the Road New York sued DHS and the Justice Department in April 2018 for records concerning the Trump Administration's decision to terminate DACA.
In response to Executive Order 13769, "Protecting the Nation from Foreign Terrorist Entry into the United States," or the "First Muslim Ban", the Brennan Center for Justice at New York University filed suit against the Department of State on October 2, 2017 seeking 23 categories of records related to the Administration's travel bans.
The Immigrant Legal Resource Center sued DHS and other federal agencies on Oct. 20, 2017 for records concerning the agency's policies on sanctuary cities, one of several suits by various groups.
In response to family separation as a result of the "zero tolerance" policy announced in April 2018, the American Immigration Council, National Immigrant Justice Center, Women's Refugee Commissions, Kids in Need of Defense, and Florence Immigrant and Refugee Rights Project sought records from U.S. Immigration and Customs Enforcement (ICE), U.S. Customs and Border Protection (CBP), and the Department of Homeland Security (DHS) regarding the separation of families who arrive at the U.S.-Mexico border. The federal agencies failed to respond, prompting the American Immigration Council to file suit on June 27, 2018. The same month, the Center for Investigative Reporting (CIR) filed suit against the Department of Health and Human Service's Administration for Children and Families for records concerning policies pertaining to housing unaccompanied minors. The CIR sought records in response to new policies announced in 2017 by the Trump Administration to "crackdown on MS-13." The new policies included stepped-up arrests and detention of unaccompanied minors suspected of alleged gang membership and referring them to custody with the Office of Refugee Resettlement where they were placed in "restrictive detention facilities."
Like suits seeking records on misconduct by government officials, FOIA requests related to immigration enforcement closely mirrored headlines, often responding to government policy announcements and subsequent media coverage. However, some issues received little national media attention. There were at least two FOIA lawsuits by immigration rights activists alleging that federal agencies, including ICE and CBP, took retaliatory action against them, including surveillance and threats of deportation in response to their activism. The two cases, Migrant Justice et al v. United States Department of Homeland Security et al, and Mora-Villalpando v. US Immigration and Customs Enforcement et al, filed October 11, 2017 and May 4, 2018 respectively, describe the activists as "targets of retaliation…chilling members' rights to associate…and speak publicly." The Migrant Justice lawsuit sought records related to any information or documents mentioning activists' campaigns, arrests of members of Migrant Justice, and communications between ICE and Vermont dairy farms about Migrant Justice. The Villalpando lawsuit alleges that ICE began targeting outspoken immigrant rights advocates for "surveillance, retaliatory arrest, prosecution, and removal." The plaintiff sought records pertaining to her arrest and other enforcement actions taken against her.
The environment. Last, but not least: the environment. FOIA lawsuits in FY 2018 pertained to a wide range of environmental issues, from the Migratory Birds Treaty Act to oil drilling on federal lands. The Natural Resources Defense Council, Inc. sued the Department of the Interior on April 26, 2018 seeking records from the U.S. Fish and Wildlife Service pertaining to the agency's new interpretation of the Migratory Bird Treaty Act. The Trump Administration's new policy on the Act caused a stir amongst conservationists in April as it weakened prosecutorial power to hold corporations to account for killing of birds as the result of industrial activity. An analysis by the Audubon Society, cited by the Washington Post in April, pointed out that oil companies would be the primary beneficiaries of the new interpretation. Companies would no longer be responsible for bird deaths as part of environmental damage resulting from oil spills, for example.
For access to descriptions and documents of all lawsuits filed in FY 2018, search lawsuits by filing date (October 1, 2017 – September 30, 2018).